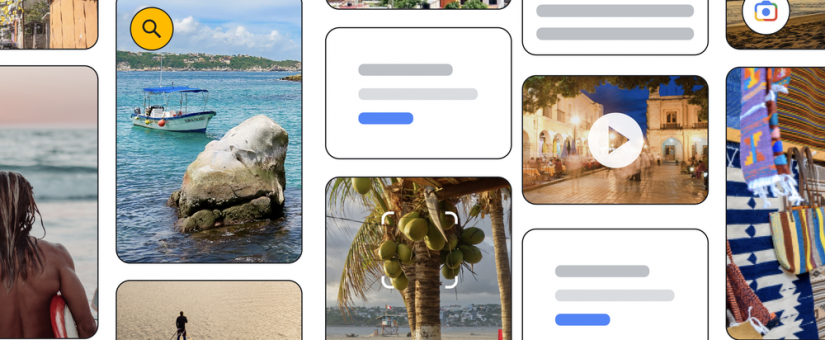 On 31/10/2022
Google, Google Search, information
Google search has long been more than just the text box. The platform is constantly developing new possibilities for this. Businesses need to be aware of them in order to be able to offer goods and services to people even better.
There are now options to search for anything one can point camera at, set a voice search, hum a song, then have Google find it. Images, sounds, text, speech are combined in order to make search more and more natural and intuitive. The age of visual search is upon us.
 There are several trends that search engine specialists are working on.
"Multisearch near me"
Earlier, Google introduced search using the phone's camera and Lens button. This option evolves into a new "Multisearch near me" option. Through it, people can discover and translate into their own language everything near them, in real time.
One of the novelties is that it will now be possible to translate an entire picture, not just text – with the help of Google Lens Translate – the translation is done very quickly, in less than the blink of an eye.
For example, if a person is looking for a dish or item, he can use the search around it to reach the store or restaurant that offers what they are interested in.
The technology is simple – Lens is used and a short text is added. (You can learn more in the video).
Google "hears" forums and online discussions
The new feature called "Discussions and Forums" will include useful content from various popular forums and online discussions on the web. For example, if you search for the best cars for your growing family, in addition to other results on the web, you'll be able to see links to forum posts that include relevant advice from people with your problem. 
No language barriers in the news
Google is increasingly developing content translation options. A new local news translation feature will launch in early 2023.
If a person wants to learn how people in Mexico were affected by an earthquake over 7 on the Richter scale, Google's new feature will be able to search and find translated news from local media in Mexico, in addition to the ones traditionally searched for in preferences your language You will be able to read authoritative reports from journalists in the country, which gives a unique perspective on what is happening there.
 Search help
For people who can't formulate a question in the search engine, Google will suggest keywords or topics – to help them make their search.
Striving for more natural and intuitive search experiences
Google Maps is being developed to such a level that no one can ever get lost again. One can discover any object so that even if one goes inside it virtually, one can look at it (and even like a table in a restaurant). When he writes in Google Maps, for example, "ATMs near me", the search engine will locate him and show him all available ATMs nearby.
Most of the changes will be phased till the end of 2022 and continue into 2023, mostly starting from the US.