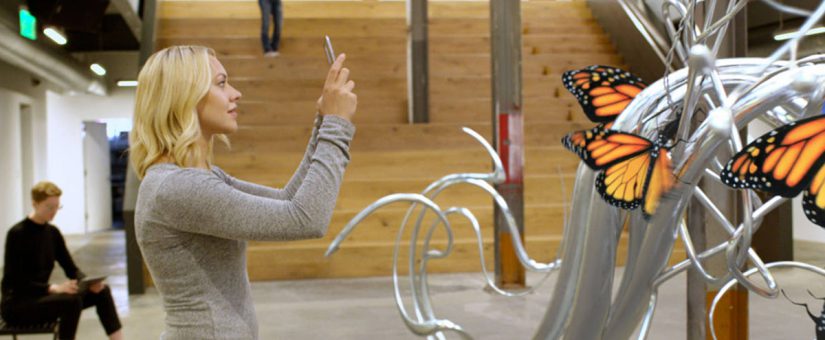 On 14/01/2019
AR, AR app, AR technology, augmented reality
Adobe, Amazon, Apple – they all have realized that Augmented reality isn't just for games anymore. It has great potential to drive consumers' attention and gain profitable ROI. Over the last few months they have invested in developing their AR capabilities in projects scoping from brands to shopping to art.
Adobe debuted in October a beta version of an AR-creation platform called Project Aero, with hopes that it will become one day as universal as Photoshop. Amazon has launched an AR shopping app, Google and Apple have released for their respected devices – the ARCore kit and the ARKit.
After the tech giants have begun to invest in expanding their tools and kits, they hope to initiate a trend for building AR experiences for entertainment, advertising and other industries. That probability is quite realistic, since the 2.1 billion AR equipped smartphones are an open market making the technology quite tangible and attractive. Adidas for example are testing an AR that lets customers view a larger variety of sneakers in their retail shops. Fossil is allowing customers thorough AR to try different watch bands and Red Bull's AR app is letting you watch first row the mountain bike competition live directly from your sofa.
The content and storytelling is also taking a piece of the pie. This month a Los Angeles AR/VR startup called Within is planning to release "Wonderscope" – a story-telling app for children. The first tale they created is about a female inventor that builds a flower-planting drone in her backyard, the second and third are non-fictional, telling a story about the first stunt woman in Hollywood and the first man to tightrope across Niagara Falls.
Along those "disruptive" experiments the market is a stage to the never-ending mixed-reality headset race. A Canadian AR headset company named North, backed by Amazon created an Alexa-powered AR glasses that you can easily confuse for normal glasses. "Think of the commerce opportunities. The glasses could scan items and allow you to tap or say yes to order on Amazon, removing any layers of friction and driving retail further into the ground " Cortney Harding, founder of the AR/VR agency Friends With Holograms, said of the North glasses.
According to a study conducted by Nielsen and AR/VR gaming engine Unity – AR ads are indeed effective. For example the results from an AR campaign done by QSR restaurants showed that brand awareness lifted 104% and the customer intent to visit their restaurants increased by 180%.
The world has a constant need for change, making competition between brands a challenging game of chance. The only way to survive in the market industries today is to be agile and open-minded. Trying is the first step to success.