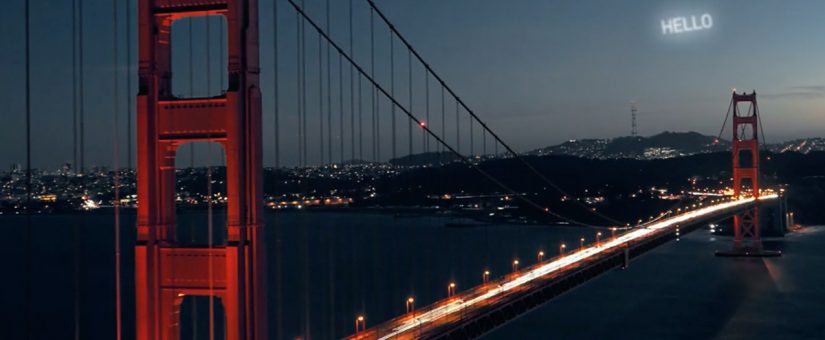 On 19/02/2019
ads in the sky, futurism, StarRocket
Russian startup StartRocket is planning to display enormous billboard-style advertisements in the night sky using arrays of cubesats. The vision is illustrated in a concept video featuring what appear to be the McDonald's and KFC logos hovering in the sky like new constellations.
According to project leader Vlad Sitnikov, the commodification of the night sky is the next logical step in advertising. He stated that the economy is the blood system of society and entertainment along with advertising – its heart. And one day it is inevitable that humankind will deliver its culture to space.
StartRocket plans to launch the so called "Orbital Display" by 2020 and start displaying ads in the night sky by 2021. Its cubesats would orbit at an altitude between 400 and 500 kilometers and will only be visible from the ground for about six minutes at a time.
The bold project may be technically feasible, but StartRocket would most likely run into regulatory hurdles around the world. The primary regulatory challenge might be whether the company' satellites would interfere with aviation safety.
But the stellar concept isn't without precedent and something completely revolutionary. A Japanese startup plans to launch a pair of microsatellites that will fire off artificial shooting stars on command. They have scheduled the meteor shower for the spring of 2020.
Undoubtedly, a public outcry is expected at the idea of brands hijacking the night sky as more marketing real estate. For example, a New Zealand company launched a disco ball into orbit last year and their actions annoyed scientists . Their gesture was a rare nod to poetry in an industry that is usually pragmatic to the point of fault, so their "Humanity Star" was left unappreciated and strongly criticized.
Nevertheless, StartRocket argued that the commercialization of space is inevitable and they just happened to be the first ones to dare develop and exploit the new medium for advertisement.