On 04/04/2016
Facebook, promotion, Social-Media
On November 5, 2014, Facebook banned the like-gate apps and campaigns. It was commonly used tactic by marketers and social media specialists to grow brands' Facebook page fan base. Many were upset by Facebook's move. Undoubtedly, this restriction encourages marketing agencies and experts to be more creative and to use new tactics.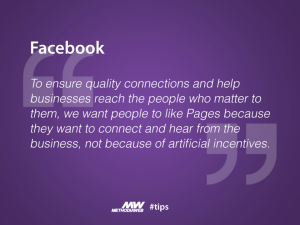 In this post, we'll share 4 alternatives to Facebook's like-gate campaigns that can be useful for marketers to maintain customer engagement on Facebook.
#1 Run contests and promotions
Instead of using page likes as contest entries, switch to other forms of entry. For example, you can ask users to like and share a post or you can create a promotion featuring a specific theme. Then you can request users to submit a user-generated content in the form of text, video or photos. This will definitely lead to more reach, engagement and brand exposure.
#2 Ask for an email address during Facebook contests
Another entry method to consider is to require people to enter their contact details, for example email address, name, phone number, etc. It is important to ask for the smallest amount of data you need to be able to contact entrants because too many requirements may discourage users from participating in the contest. Thus you will have the ability to reach customers again in the future.
#3 Run Facebook ads
Running a Facebook campaign will help you reach not only your existing fan base but also customers who are not your fans. This is an easy way to boost your brand exposure and engagement.  
#4 Ask users to like your page
Instead of using like-gating just ask users to like your page if they want to interact with it. Thus you will be sure that customers find the content you share useful or entertaining.
You should take the ban on like-gating as an opportunity to focus on other marketing tactics. Using the tips above can help you create more engaging content on Facebook and collect valuable user information.
Thanks for reading this blog post. If you like it do not hesitate to share it with your friends.