"Art without emotion is not fundamentally art."
  Paul Cézanne
Some people say that painting was not for everyone. Or is it? There are already various technological tools with which every amateur can feel like an artist, and why not as a graphic designer. Just check in the search engine.
One of these tools is Google's AutoDraw, which uses a machine learning algorithm and can easily turn any scribble into a serious drawing – just for fun or work.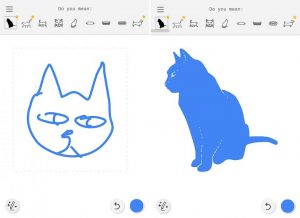 The program can be easily used by any device. You start drawing your best version of a pizza, a house, a dog, a cake, and the algorithm tries to figure out exactly what you're trying to draw. It then tries to compare your experiments with the drawings in its database, and if it finds possible matches, it lists them at the top of the virtual canvas. If one of these options catches you, click on it and AutoDraw replaces your amateur performance with a picture that has a very good artistic look. You can continue with more drawings, choice of background, text and other options that can make you a happy artist. Then you can easily download, save and even share your work on social networks.
This project actually uses the same technology as the Google QuickDraw experiment. However, QuickDraw is more of a game where you try to draw an object and hope that the algorithms will recognize it within 20 seconds.
With AutoDraw you get more freedom to experiment. It is best to visit the site of the platform and try to create a drawing. It could be a masterpiece. And why not the main image in your marketing campaign?